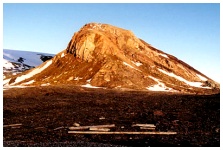 Lawrence of Arcticia?

Did you know that the Arctic is a desert?

You might be wondering how that could possibly be when it has a whole ocean of water right in the middle of it.

The Arctic is a cold desert because it gets very little precipitation (rain or snow) - about the same amount as the Sahara - but it is so cold that the snow that does fall doesn't melt, so deep snow covers the land and ice.

As long as there is some source of moisture and some way to lift or cool the air, it can snow even at incredibly cold temperatures. However, most heavy snowfalls occur at temperatures just below freezing (15°F/-10°C or warmer) since warmer air can hold more water vapor.

The very cold Arctic air is not able to hold much moisture, and therefore it doesn't rain or snow very often - and that makes it a desert. So there!

MORE...
Click pictures for more information and credits.
Library: Arctic, Snow, Ice
Sky/Seasons
Cold/Cold Places
Links: Arctic, Cold Places
Arctic Maps & Weather Reports
Drownpour?