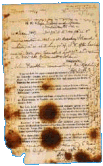 "We found a note!"

Sir John Franklin and his Northwest Passage seeking expedition set out from England on May 19, 1845, and the last sighting of his ships had been on June 25th of that same year. Until recently, the only knowledge we had of the ships' whereabouts was from clues found by numerous searchers sent to find the lost ships.

One such clue was the document shown above. It was left behind by Franklin's men and it contains two separate messages.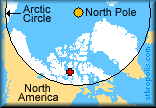 The first note is dated May 28, 1847 and says that the expedition spent its first winter (1845-46) at Beechey Island and the second winter (1846-47) off the northwest coast of King William Island.
Around the margin is a second message written almost a year later. It tells how Franklin's ships, the "Erebus" and the "Terror", had been trapped in the ice since September 12, 1846.
The ships were finally deserted on April 26, 1848 - nearly three years after they had set sail from England. The 105 men who were still alive (from the original 129 officers and crew) planned to walk south.
The location of the ships was not discovered until about 170 years later. The wreck of the Erebus was found on September 7, 2014 (southwest of King William Island), and the Terror was found on September 12, 2016 (south of King William Island).
MAP: + Location of the "Terror" and "Erebus" as indicated on note.
MORE...
Click pictures for more information and credits.
Library: Arctic, Franklin Expedition
Exploration, Explorers
Boats/Ships/Submarines
Links: Arctic, Franklin Expedition
Boats & Ships, Arctic Maps & Weather Reports
GAME: Search for Franklin