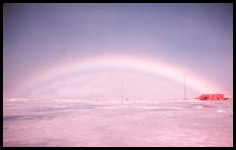 A Pot of Ice at the End of the Fogbow?

A "fogbow" is caused by a process similar to that causing rainbows, but because of the very small size of the water droplets, the fogbow has little color - making it appear white.

Very cold air can't hold as much moisture as warmer air, and therefore fogbows often appear in cold areas.
The colors of a rainbow depend on the size of the water droplets. Bright red only appears when there are big raindrops, but when the droplets are small, the rainbow angles of the different spectral colors overlap in a way that they add up to white light.

The radius and thickness of a fogbow also depend on droplet size. As the droplets get smaller, the fogbow gets broader (usually about twice as wide as a normal rainbow) but its radius decreases. Unscientifically put, they're paler, shorter and fatter.

MORE...
Click pictures for more information and credits.
Library: Environment/Atmosphere, Arctic
Links: Environment, Arctic
Arctic Maps & Weather Reports