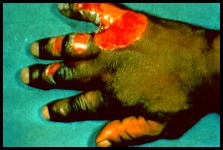 Don't Get Bitten by Old Man Winter!

Frostnip and chilblain are the first phases of freezing - if you stay in the cold, you may end up with frostbite!

Frozen skin may turn red, then grey-blue with blisters. In the worst case, the skin dies and turns blue-black. At this stage, amputation (chopping off the frozen part) is generally unavoidable.

Kids are at greater risk of frostbite than adults because they lose heat from their skin more rapidly than adults do. And, when you're having fun in the snow it's easy to get distracted - sometimes kids don't want to leave winter games to go inside and warm up.

Here's how to prevent frostbite:
Make sure you have a place to warm up, and use it regularly.
Dress in layers for extra insulation.
Use a warm scarf for extra protection around your nose and ears.
Pay extra attention to areas that are most exposed like fingers and toes (mitts over gloves is a good idea).
Watch for the early warning of frostnip (white and numb spots).
MORE...
Click pictures for more information and credits.
Library: Cold / Cold Places, Health / Safety, Arctic
Links: Cold Places, Arctic
Arctic Maps & Weather Reports