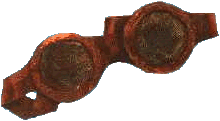 The Snow's So Bright... I Gotta Wear Shades

These old snow goggles (above) were used by men of the Franklin Expedition to keep them from going "snow blind" from the reflection of the sun's light off the Arctic ice. Instead of dark lenses, a fine screen cut the amount of light entering the eye.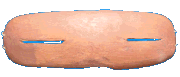 Snow blindness is a temporary loss of vision caused by exposure of the eyes to bright sunlight reflected from snow or ice. It can be very painful because the sun burns the covering of your eye - the cornea.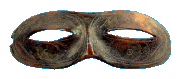 In the Arctic the sun is low in the sky (shining into your eyes) and it can shine 24 hours a day. The intensity is increased by reflection from the brilliant snow.

Before sunglasses, the Inuit wore goggles made from bone, ivory or wood. Narrow slits limited the field of view, but reduced the bright sunlight enough so that visibility was improved and blindness was prevented.

MORE...
Click pictures for more information and credits.
Arctic: Library and Links
Inuit: Library and Links
Franklin Expedition: Library and Links
Sunrise & Sunset Guide and Links
Search for things lost by the Franklin Expedition...
Play the Archaeology Game