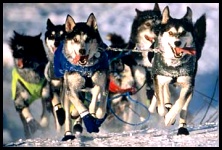 The Last Great Race!

It's called the "Last Great Race". It covers nearly 1,200 miles / 2,000 km across some of the toughest terrain on earth, through some of the coldest winter weather in the world.

The Iditarod Sled Dog Race begins in Anchorage during the first weekend in March. The route bumps along across rugged landscape - ranging from mountains to sea ice - retracing a 1925 dog-sled dash that brought desperately needed medicine to fight a diphtheria epidemic in Nome.

From the first winning 20 day run in 1973, the best times of the teams (12 to 16 dogs) to complete the race have fallen to under 10 days.

Not all dog teams are so fast however, and many things can go wrong on such a gruelling trip. After the first musher reaches Nome, slower teams continue to flow in both day and night for another week and a half.

MAP: The Iditarod Trail. Wow! That's a LONG way!

MORE...
Click pictures for more information and credits.
Library: Sled Dogs, Ice, Arctic
Links: Cold Places, Arctic, Sled Dogs
News Story: Yellowknife to Baffin Island!
News Story: 16 Dogs... 4 Women... 2 Sleds...
Just for Fun: Sled Dog Jokes!
Arctic Maps & Weather Reports