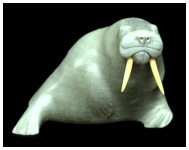 Expression in Stone, Bone and Ivory

Since the Inuit lived off the land, all of their utensils, tools and weapons were made by hand from natural materials: stone, bone, ivory, antler or driftwood.

Nomadic people in the Arctic could take very little with them other than what was necessary for daily living, but other objects were carved in miniature so that they could be carried around or worn - such as earrings, masks, amulets, toys, or figures used to tell legends. Archaeologists have dated Arctic carvings to as far back as 3,500 years ago.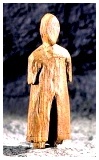 An Inuit carving from Baffin Island is thought to depict a European in what may be a knight's surcoat. It has been dated to around the year 1300 CE (Common Era), just after the first Inuit entered northwest Greenland where they encountered medieval Norse (Viking) hunters from the colonies founded by Eric the Red.

In recent centuries, adults continued to whittle or carve small figurines as toys for children, and these items proved to be popular with traders. It was a natural progression to begin making ornate sculptures out of stone, bone and ivory.

Carvings became larger as the Inuit both settled into communities, and received requests to produce their carvings as artwork.

Subjects are usually drawn from the traditional way of life, depicting hunting scenes, animals or drum dances, and this artistic expression has produced a number of "world class" artists.

MORE...
Click pictures for more information and credits.
Library: Inuit, Countries & Places
Exploration, Animals, Arctic
Links: Inuit, Animals, Arctic
Nunavut Map, Nunavut Game
Arctic Maps & Weather Reports