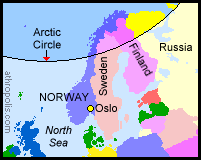 Land of the Midnight Sun

In the Norwegian city of Hammerfest, the northernmost city in Europe, the sun shines 24 hours a day at the height of summer - giving Norway the title "Land of the Midnight Sun".

Norway is also known as the land of the Vikings. These seafaring warriors not only raided other European countries for two centuries (the raids tapered off following the adoption of Christianity by Norway's king in 994), but also colonized areas of Iceland, Greenland, and even the North American coast - centuries before Columbus made his famous voyage.

Famous for its fjords, Norway has one of most rugged and longest coastlines in the world with some 50,000 islands off its much indented coastline.

Norway's indigenous population is mostly Sami. Although Lapland, their home, extends across far northern Europe, Kautokeino, Norway, is considered to be the center of Lapland.

The Kingdom of Norway is a constitutional monarchy, but the Norwegian Sami Parliament can deal with everything that has to do with the Sami people, giving them a certain amount of authority in areas such as language, culture, industry and education.

Norway represents one of eight countries with a portion of its territory within the Arctic Circle. Do you know the others? Play the GAME!

MORE...
Click pictures for more information and credits.
Library: Arctic, Eurasia
Links: Arctic
Arctic Maps & Weather Reports