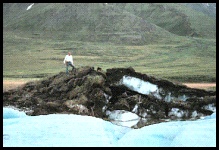 There's More Than One Type of Permafrost

Permafrost is defined as any rock or soil remaining at or below freezing temperature (colder than 32° Fahrenheit / 0° Celsius) for two or more years.

The two-year minimum does not include the surface layer that freezes every winter and thaws every summer (called the "active layer").

Permafrost is not determined by soil moisture content, snow cover, or location. It can contain a high percentage of ice - or practically no ice at all.

There are several types of permafrost:
Cold permafrost: Remains below 30°F / -1°C or as low as 10°F / -12°C. It can take considerable heat without thawing.
Warm permafrost: Remains just below 32°F / 0°C. Very little additional heat may cause it to thaw.
Thaw-stable: Permafrost in bedrock, in well drained, coarse-grained sediments such as sand and gravel mixtures. Movement when thawed is minor, foundation remains essentially sound.
Thaw-unstable: Poorly drained, fine grained soils, especially silts and clays. The result of thawing can be loss of strength, excessive settlement and soil containing so much moisture that it flows.
Ice-rich: 20% to 50% visible ice.
MORE...
Click pictures for more information and credits.
Library: Arctic, Land, Ice
Cold/Cold Places
Links: Arctic, Environment, Cold Places
Arctic Maps & Weather Reports