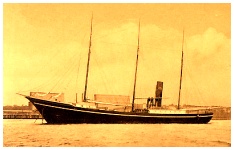 Peary's "Roosevelt": Built for Ice

When Robert Peary planned his expedition to the North Pole, he realized that if a ship was going to get him as far north as possible through the polar ice, it would have to be specially designed.

The "Roosevelt" was built for that purpose, and when it steamed out of New York harbor in 1905, it was the most practical ship to enter Arctic waters: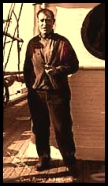 The ship had egg-shaped sides that were designed to let it ride up on the ice.
Some parts of the hull were as much as 30 inches / 76 cm thick. It was both elastic and strong.
Massive crossbeams braced the hull inside.
The ship was narrow and the prow was flared to let it cut into the ice floes.
It had a powerful engine with an oversized shaft and propellers.
This "battering ram" - designed to attack the ice by force - left Greenland on July 8, 1908, for the final push north to Cape Sheridan on Ellesmere Island.

After it had bashed, banged, hammered, plowed, sliced, squeezed and twisted its way through the ice, Peary commented: "I do not believe there is another ship afloat that would have survived the ordeal."

Peary chose Bob Bartlett (Picture: Right) to command the vessel, and Bartlett accepted on one condition - he was to accompany Peary on the dash to the Pole. "Cap'n Bob" was greatly disappointed - Peary sent him back to the ship just before the final leg of the journey.

MORE...
Click pictures for more information and credits.
Library: Arctic, Boats/Ships/Subs
Explorers, Exploration
Links: Arctic, Boats & Ships
Maps: Explorers' Routes, Arctic Maps & Weather Reports