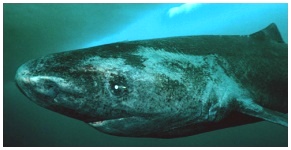 Hunting in Darkness

We often think of sharks as living in warm or tropical waters. Of the 465 known species of sharks, only eight have been seen in Arctic waters.

One of them is the Greenland Shark - the largest Arctic fish. They can grow to well over 20 feet / 6 meters and 2,000 lbs / 900 kilos, though commercial fishermen claim to have landed them even larger.

During the winter, these sharks live in deep water that is far beyond the depth range of other sharks, often going as deep as 400-600 meters / 1300-2000 ft. Their territory is along Greenland's coast, but they can range throughout the Arctic Ocean and as far south as the Gulf of St. Lawrence or the Gulf of Maine.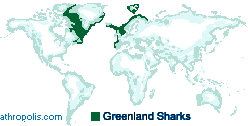 Cruising the frigid waters beneath the ice, the sharks hunt in near darkness and use their keen sense of smell to find food. The darkness is not a great problem as most of these sharks can't see - they've been blinded by parasites that hang from their eyes.

The pinkish-white parasites called copepods (koe-puh-pods) attach themselves to the cornea of the shark's eye. One theory is that the parasites dangling down from the eyes actually act like lures to attract food - when the prey gets close, the shark inhales and is able to suck food in from 3 feet / 1 meter away. Poor manners perhaps - but effective.

MORE...
Click pictures for more information and credits.
Library: Whales & Fish, Arctic
Links: Arctic, Arctic Animals
News Story: Greenland Shark
Arctic Maps & Weather Reports