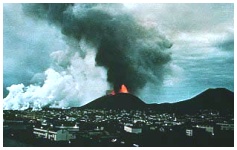 Country Blows it's Top!

Iceland, like Hawaii, was formed by volcanoes, and although some parts of the island have hardly changed since the first Viking settlers saw them more than 1,100 years ago, other parts of it are still taking shape as a result of volcanic eruptions.

Only a small part of Iceland is presently within the Arctic Circle, but with those volcanoes - things may change!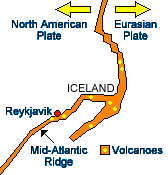 The Mid-Atlantic ridge is a split in the Earth's crust dividing the North American Plate and the Eurasian Plate. It appears to pass right through the center of Iceland, but in fact, Iceland grew up around the split in the plates as lava oozed through and flowed upward.

The Askja volcano eruption in 1875 devastated the Icelandic economy and caused widespread hardship and famine. Over the following decades, about 20% of Iceland's population emigrated, mostly to Canada and the USA.

The 1973 eruption on the island of Heimaey is an example of ongoing volcanic activity. With heroic efforts the people of Iceland were able to save the town of Vestmannaeyjar (pronounced: "take-a-guess") and the country's most important fishing port.

MORE...
Click pictures for more information and credits.
Library: Countries/Places, Land, Arctic
Links: Cold Places, Arctic
Arctic Maps & Weather Reports