<!XXXXXXXXXXXXXXXXXXX LIST XXXXXXXXXXXXXXXXXXXXXXXX> ARCTIC LIBRARY
Check out the SKY / SEASONS section. There's just about everything in this library that you'd ever need to know about the Arctic, listed both ALPHABETICALLY and by CATEGORY. Ideal for students. (Double-click any word on these pages for a "pop-up" definition.)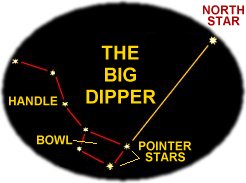 H.R.MACMILLAN SPACE CENTRE.
Lots of space and night sky information here. Got a space related question? Then ASK AN ASTRONOMER by typing your question in the form provided - and you'll hear back from the astronomer by e-mail.

ASTRONOMY FOR KIDS
Come along on a journey through the stars!

THE STAR PRONUNCIATION GUIDE
This guide provides phonetic pronunciations for hundreds of stars and other astronomical objects. Check out the Skywatching Center for the current month.

THE CONSTELLATIONS AND THEIR STARS
So just what are these constellations you keep hearing about? This site tells you.
Also, a great alphabetical list of NAMED STARS.

SOLAR SYSTEM SIMULATOR
A NASA/JPL/Caltech spyglass on the cosmos. Select from the options to have the simulator create a color image of your favorite planet or satellite! This is great!

ARTY THE PART-TIME ASTRONAUT
Explore the solar system with Arty. This site features fun, interactive games and movies that help children learn about the solar system. Flash plug-in required.

A MYSTERY OF SPACE: STARS
The students from the ThinkQuest project have produced another great site: a detailed, beautiful resource on stars.

KIDS ASTRONOMY
An astronomy resource site for kids. Check out THE SKY TONIGHT - a great interactive feature with real time maps of the night sky.

EARTH & SKY
The site of the science radio series heard by millions of listeners on commercial and public stations and their translators throughout the United States, Canada, the South Pacific and a variety of international networks. Don't miss TONIGHT'S SKY.

YOUR SKY
An interactive planetarium. You can produce star maps for any time and date, viewpoint, and observing location.

ORBIT
Take flight into orbit around the Earth - you control your own spacecraft. All of the sights you will see are based on actual astronomical data and satellite imagery. This is as close as you can get to being in orbit without being hired by NASA.

THE CURRENT SKY
A monthly sky map and information on Moon phases, visible planets, eclipses...

KIDS ADVENTURES IN SPACE
Astronomy for 3 to 10 year olds.

WINDOWS TO THE UNIVERSE
A graphics intensive Web site about the Earth and Space sciences. Entry options here lead to the Intermediate content level. Click 'Preference' once inside the site to change your view settings.

KIDS EARTH & SKY
Lots of great stuff here.

GALAXY MAPPING
What new technologies are being used to map the galaxies? Is there a pattern to where galaxies are located? Why would we want to map the galaxies?

ASTRO VIEWER
AstroViewer is a Java applet that allows you to display a sky map for any time, for any position on Earth, find out the names and other information about the celestial bodies (stars, planets, etc.) on the display, find celestial bodies, find constellations, create a printable version of the sky chart in the PDF- or GIF-format or display a map of the solar system.

CYPRUS ASTRONOMICAL SOCIETY
Sky events, meteor showers, asteroids, and much more.

STARRY SKIES
A great general astro resource site for teachers and students.

AN ATLAS OF THE UNIVERSE
This web page is designed to give everyone an idea of what our universe actually looks like. There are nine main maps, each one approximately ten times the scale of the previous one. The first map shows the nearest stars and then the other maps slowly expand out until we have reached the scale of the entire visible universe.

THE BLUE MARBLE
This spectacular "blue marble" image is the most detailed true-color image of the entire Earth to date. Using a collection of satellite-based observations, scientists and visualizers stitched together months of observations of the land surface, oceans, sea ice, and clouds into a seamless, true-color mosaic of every square kilometer (.386 square mile) of our planet.

IMAGINE THE UNIVERSE
This site is intended for students age 14 and up, and for anyone interested in learning about our universe.

STARCHILD
A learning center for young astronomers.

SPACE WEATHER
Science news and information about the Sun-Earth environment.

NASAKIDS
Losts of space related stuff for kids.

THE ROYAL OBSERVATORY. GREENWICH, ENGLAND
The home of Greenwich Mean Time, where you can stand with a foot in both Western and Eastern hemispheres. Charles II appointed his first Astonomer Royal in 1675 to devise ways of calculating time at sea - essential for the exploration and mapping of the globe. The following year saw the completion of the Observatory.

ATHROPOLIS GLOSSARY (Athropolis)
See our pop-up boxes for: CONSTELLATIONS, BIG DIPPER and NORTH STAR.