<!XXXXXXXXXXXXXXXXXXX LIST XXXXXXXXXXXXXXXXXXXXXXXX>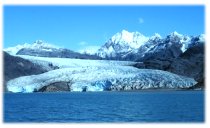 Riggs Glacier, Glacier Bay
Photo: National Oceanic and
Atmospheric Administration


ARCTIC LIBRARY
Check out the GLACIERS section. There's just about everything in this library that you'd ever need to know about the Arctic, listed both ALPHABETICALLY and by CATEGORY. Ideal for students. (Double-click any word on these pages for a "pop-up" definition.)

ALL ABOUT GLACIERS
A glacier site with something for everyone, like
WHAT TYPES OF GLACIERS ARE THERE?.
THE GLACIER STORY will take you on a quick tour complete with glacier photos from our historic glacier photo collection.

GLACIERS - FROM WIKIPEDIA
A glacier is a large, slow moving river of ice, formed from compacted layers of snow, that slowly deforms and flows in response to gravity.

RETREAT OF GLACIERS SINCE 1850
The retreat of glaciers, worldwide and rapid, affects the availability of fresh water for irrigation and domestic use, mountain recreation, animals and plants that depend on glacier-melt, and in the longer term, the level of the oceans.

MAP: RETREAT OF GLACIERS
Five maps follow the retreat of the glaciers of the last Ice Age. They begin with the glaciers at their maximum extent 18,000 years ago.

WORLD DATA CENTER FOR GLACIOLOGY
As one of more than 40 data centers around the world that are collecting, archiving, and distributing geophysical data, the World Data Center for Glaciology provides a focus for snow and ice information services.

MAP: GLACIERS OF WESTERN GREENLAND
Most icebergs that reach the North Atlantic Ocean come from the major glaciers of West Greenland. Between 10,000 to 15,000 icebergs are calved each year, primarily from the range between the Humboldt and Jacobshavn glaciers.

SATELLITE IMAGE ATLAS OF GLACIERS OF THE WORLD
Space-based observations have now become an essential means for monitoring global changes.

GLACIERS AND THE GLACIAL AGES
The landscape of much of northern North America, Europe and Russia has been profoundly affected by glaciation over the last 1.5 million years.

MONITORING GLACIERS TO WATCH GLOBAL CHANGE
Glaciers are among the most reliable indicators of climate change.

GLACIERS AND GLACIATION
How much do you know about glaciers? Take this test.

ICEBERGS AND GLACIERS
A grade 6 Social Studies report.

GLACIERS
What is glacier and how does one move? What is the current distribution of glaciers around the Earth?

GLACIERS AND GLOBAL WARMING
The mile-long ice cliff of Marr Ice Piedmont, Anvers Island, has receded about 500 meters since the mid 1960s.

ICEFIELDS AND GLACIERS
Alaska has hosted a glacier-favoring mixture of climate and topography for the last 12.5 million years. Today there are still over 100,000 glaciers in Alaska, although ice covers only 5 percent of the state.

LIFE FOUND INSIDE A GLACIER
Scientists have found millions of microbes - including some species never seen before - living almost two miles deep inside a glacier in Greenland

CREVASSE RESCUE
When travelling on glaciers there is an ever-present danger of falling into a crevasse, so climbers should never travel unroped. When a climber falls into a crevasse his/her partners must immediately move into self-arrest positions to prevent the climber from falling any deeper into the crevasse.

WHAT ARE THE PHYSICAL EFFECTS OF GLACIERS?
The physical effect of the moving glacier is to scour and grind the bedrock surface over which it travels as it advances, and then to redeposit vast quantities of sand, gravel and silt as it retreats. Further advances and retreats of subsequent ice sheets continue to rework these accumulated glacial sediments.

GLACIERS, RIVERS OF ICE
I've been always fascinated by the idea of ice flowing like a river, scouring the landscape in its wake, nature's force in slow, glacial motion.

GLACIER IMAGE DATABASE
The glacier system can be divided into six topics: Erosion, Subglacial, Superglacial, Ice-margin, Glacial lakes, and Proglacial.

NATIONAL GEOGRAPHIC FOR KIDS: GLACIERS
What are glaciers? How do they form? Tim and Moby share all the answers in this cartoon.

RIVERS OF ICE
There are about 266 glaciers crowning the Olympics peaks; most of them are quite small in contrast to the great rivers of ice in Alaska.

GLACIERS IN ALASKA
Icefields and an estimated 100,000 glaciers cover 5 percent of Alaska's surface and they are easily viewed by visitors to Juneau, Valdez, Whittier, Seward, Anchorage or the Matanuska Valley.