<!XXXXXXXXXXXXXXXXXXX LIST XXXXXXXXXXXXXXXXXXXXXXXX>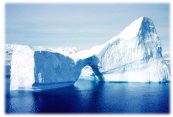 Photo: National Oceanic and
Atmospheric Administration


ARCTIC LIBRARY
Check out the ICEBERGS, GLACIERS (as icebergs come from glaciers) and SNOW sections. There's just about everything in this library that you'd ever need to know about the Arctic, listed both ALPHABETICALLY and by CATEGORY. Ideal for students. (Double-click any word on these pages for a "pop-up" definition.)

MAP: SOURCE OF NORTH ATLANTIC ICEBERGS
Most icebergs that reach the North Atlantic Ocean come from the major glaciers of West Greenland. Between 10,000 to 15,000 icebergs are calved each year, primarily from the range between the Humboldt and Jacobshavn glaciers.

INTERNATIONAL ICE PATROL PICTURES
Including a picture of a bombed iceberg and the iceberg that may have sunk the Titanic.

ICEBERG PHOTOS FROM THE SCOTT POLAR RESEARCH INSTITUTE
A picture is worth a thousand words - so LOOK!

CANADIAN ICE SERVICE
A leading source of ice information, the Canadian Ice Service monitors sea ice conditions in Canadian waters through aircraft reconnaissance and remote satellite technology.

NEWFOUNDLAND ICEBERGS
Icebergs are a common sight along the coast of Newfoundland from March until July. They originate from the glaciers of West Greenland where 30,000 - 40,000 are calved annually.

HOW CAN AN ICEBERG FLOAT?
An iceberg is nothing but a giant ice cube. When you throw an ice cube in a glass of water, it will float. Floating has nothing to do with size - it's about weight. The floating of an ice cube is just the same as floating of an iceberg. How is this possible?

FREQUENTLY ASKED QUESTIONS ABOUT ICEBERGS
Where do North Atlantic icebergs come from? What is the life cycle of an iceberg? How many icebergs last long enough to reach the Atlantic shipping lanes? Where is iceberg alley? What are the shapes and sizes of icebergs? What are the most dangerous icebergs?

DATABASE OF SHIP COLLISIONS WITH ICEBERGS
This database concentrates on iceberg collisions in the North Atlantic off Newfoundland and Labrador - including a chart showing known locations of ship collisions. Crunch!

INTERNATIONAL ICE PATROL KIDS
The U.S. Coast Guard's Kids' Korner with good iceberg information and pictures.

DISCOVERY SCHOOL - GLACIERS AND ICEBERGS
Lesson plan and activities about, you guessed it, glaciers and icebergs!

RESOURCES: ARCTIC AND ANTARCTIC ICEBERGS
The world's largest icebergs break off from Antarctica, but these rarely drift into shipping lanes where they can endanger ships. The links here take you to news stories and basic information about Arctic and Antarctic icebergs.

OCEAN WORLD - ICEBERGS
So what criteria must a chunk of ice meet to officially be called an iceberg? By definition, icebergs are at least seventeen feet proud of the water and fifty feet long.

I SURVIVED THE TITANIC
Ruth Becker was 12 years old when she set sail on the R.M.S.Titanic. This is her true story.

ICEBERG ALLEY - AN ICEBERG'S JOURNEY
From the Northern tip of Labrador down to the eastern coasts of Newfoundland, the sea that pounds and caresses these shores is nicknamed Iceberg Alley.

CRYOSAT-2: EARTH EXPLORERS
By monitoring precise changes in the thickness of the polar ice sheets and floating sea ice, CryoSat-2 aims to answer questions about climate change.

ICE AND ICEBERGS
Earth's polar regions are landscapes of ice and snow. But despite the seemingly mundane whiteness of it, on the open ocean there is a floating landscape of pack ice and mountainous icebergs as diverse as any landscape on the planet.

THE ICEBERG NET
Lots of information and pictures.

ICE TERMINOLOGY (1)
There is an internationally accepted terminology for ice forms and conditions. This terminology is used by the Canadian Ice Service as the basis for reporting ice conditions.

ICE TERMINOLOGY (2)
Modern Western (science and non-science cultures) terms as well as Inuit terms for ice.