Survival of the Cutest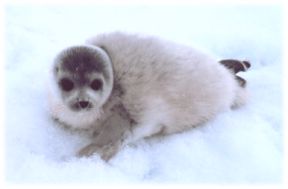 A seal pup stares up from the ice
Photos: National Oceanic and Atmospheric
Administration (Click photo for MORE)

During the cold winter months, a few million harp seals feed in the rich waters of eastern Newfoundland and the Gulf of St. Lawrence. As spring approaches, about one-third of the seals gather on the ice around Canada's Magdalen Islands and Labrador to give birth.

Within a week or so around March 1st of each year about 500,000 seal pups are born on the ice floes, providing one of the most spectacular wildlife events in North America.

The white-coated pups are only about 60 cm/24 inches long when they are born and weigh about seven kilograms/15 lbs), but they grow quickly. Their mother's milk is 45% fat (compared to cow's milk at 4%) and the pups gain about two kilograms/4.5 lbs a day. In 12 days they weigh about 34 kilograms/75 lbs.

You can imagine the sound as thousands of hungry pups call out for their mothers.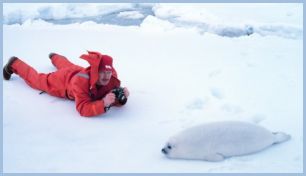 The mothers then leave the young seals and swim off to join the males and begin the journey back north. The pups have to follow on their own.

Although the ice floes provide a birthing place that is safe from predators, it is not safe from seal hunters. The seal hunt is one of the very few hunts that occurs in the spring when young are being born. A harp seal can be legally killed as soon as it has begun to moult its white hair - about 2 weeks after birth.

Recently tours have begun bringing thousands of wildlife lovers to the ice floes to hunt the seals with cameras rather than clubs.

Use the links below to learn more about the seals and the seal hunt.

LINKS:
Arctic, Arctic Animals, Maps
Canada Seal Hunt
Seal Conservation Society
Animal Alliance of Canada
International Marine Mammal Association
Tours to See the Seals
PHOTOS:
NOAA Photo Album of Seals and Sea Lions
Photos of Seals
Photos of the Seal Hunt (viewer discretion advised)