Nuclear Submarines
Surface in Arctic
British and Americans Rendezvous at Pole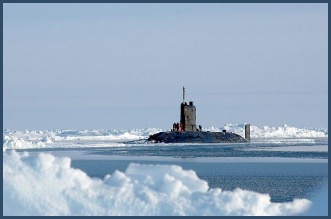 HMS Tireless pops up for a peek.

The Arctic was a little less tranquil on April 19, 2004 when the American fast-attack submarine USS Hampton and the Royal Navy submarine HMS Tireless popped up at the "top of the world". They surfaced at the North Pole through two naturally occurring leads or "gaps" in the ice about 1/2 mile / .8 km from each other.

The ice exercise demonstrated the U.S. and British Submarine Force's ability to navigate freely in international waters, including under the ice in the Arctic Ocean - the harshest maritime environment on Earth!

Nuclear submarines can stay submerged for months at a time, and following a joint operational exercise under the polar ice cap, both submarines surfaced and the crews met on the ice. Crewmembers had been crammed on board the submarines under the ice for weeks, so they were glad to get out for a stroll and take in the stark beauty of the Arctic wilderness.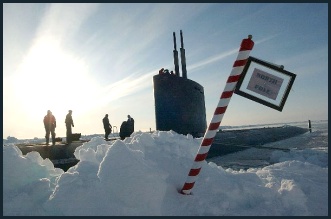 USS Hampton at the North Pole.

Hey! Watch out for polar bears! On a previous US submarine mission, the crew watched in amazement as a curious bear chewed the fin and external casing of their vessel.

When the British and American crews met, they hoped to play a game of soccer on the ice cap, but the game was called off due to too much snow on the playing field. The crew of the USS Hampton did, however, make a sign reading "North Pole" and posted it on the ice.

Scientists were also on board to monitor global warming effects on the polar cap and take measurements of the thickness of the ice underwater. The permanent ice pack at the North Pole has retreated 100 miles / 160 km north in recent years and can thin in the summer to as little as 6 ft / 1.8 meters. Overall, ice in the Arctic has diminished by about 40% in the past 20 years, according to research.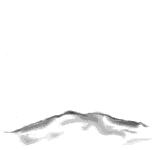 "INVADERS!"


The first submarine to reach the Pole was the nuclear powered submarine USS Nautilus. The sub left Pearl Harbor, Hawaii on July 28, 1958, travelled through the Bering Strait and under the Arctic ice pack and reached the geographic North Pole on August 3. It then completed the trans-polar voyage by continuing to Portland, England.

We have been unable to confirm whether or not the navies were also looking for a missing iceberg - thought to be inhabited by Throps and Squallhoots.

LINKS:
USS Hampton, HMS Tireless
Navy Newsstand
Arctic, Boats and Ships
Map of Arctic Explorers' Routes, Maps of the Arctic, More Maps