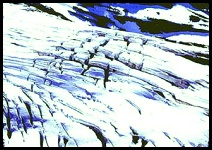 Crevasses and Crevices

A "crevasse" is a large deep crack in the surface of a glacier, caused by the ice flowing over uneven terrain.

• When a glacier moves around a sharp bend in a valley, the ice on the inside edge moves slower than the ice on the outside edge. The inside edge is compressed - the outside edge is pulled apart.
• As a glacier flows down a mountain, its pace quickens when the slope steepens. When ice begins to flow faster than the ice behind it, it is pulled apart.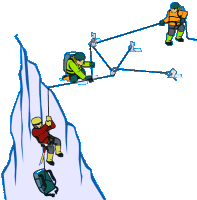 • The sides of a glacier move slower than the centre because of friction between the ice and the walls of the mountain or valley. This speed difference often creates crevasses near the glacier edges, pointing up-valley.
• When a glacier moves over the top of a bump or hill, the ice is stretched and pulled apart. You guessed it - more crevasses!

Crevasses are often hidden by overlying snow, and falling into one is extremely dangerous. Anyone planning on walking on glaciers should be trained in crevasse rescue.

A "crevice" is an opening (usually long and narrow) made by the cracking, splitting or separation of ice, rock or other materials - for any number of reasons. A "crevice" cannot be a "crevasse" unless it is in a glacier.

PICTURE LINKS: TOP: Crevasses on a glacier. RIGHT: Crevasse rescue.

MORE...
Click pictures for more information and credits.
Library: Arctic, Glaciers, Ice, Snow
Links: Arctic, Glaciers
Arctic Maps & Weather Reports