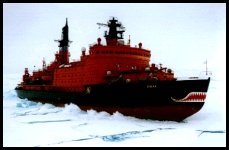 How Icebreakers Break Ice

Icebreakers are designed with sloping bows, heavy construction (lots of weight for their size), and lots and lots of power.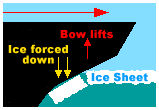 The hull is very strong and the bow is specially reinforced to handle the force of the ship hitting the ice at speed.
But icebreakers don't try to plow through the pack ice - they use their power and momentum to push the sloping bow up onto the ice. The great weight of the ship then pushes down on the ice, letting gravity do the heavy work.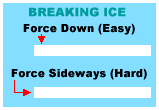 The force, coming down on the ice with nothing to support it but the water, causes it to break off in chunks. It's then pushed out of the way by the hull, and it's on through the Arctic Ocean to the North Pole!

Ice thickness measured from the top may only be about 2 meters / 6½ feet thick, but thickness measured from the side could be... almost endless!

PICTURE: The Russian nuclear powered icebreaker "Yamal".

MORE...
Click pictures for more information and credits.
Library: Arctic, Boats/Ships/Submarines
Links: Arctic, Boats & Ships
Arctic Maps & Weather Reports