A Couple of Tough Ships

The U.S. Coast Guard's Polar class ships "Polar Sea" and "Polar Star" are two of the largest ships in the Coast Guard and the world's most powerful non-nuclear icebreakers. They're designed to move continuously through six feet / 2 meters of ice at a speed of three knots.

Six diesel-electric engines can produce 18,000 shaft horsepower, but when the going gets tough in thick ice, the ships can switch to three gas turbines that can crank out 75,000 shaft horsepower.

That power goes to three propellers that push the reinforced steel hull up onto the ice which then breaks under the ship's weight (Details).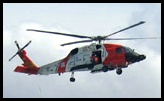 The ships are equipped with helicopters and satellite images processed aboard aid in ice navigation, science planning and weather forecasting.

In addition to facilities for the crew of 180 men and women (including a library, exercise room, and daily movies), the ships have five laboratories and accommodations for as many as 35 scientists and technicians. Another seven portable science laboratories can be installed on deck.

MORE...
Click pictures for more information and credits.
Library: Arctic, Ice
Boats/Ships/Submarines
Links: Arctic, Boats & Ships
Arctic Maps & Weather Reports