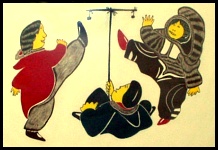 Traditional Inuit Games

The Inuit enjoy a variety of traditional games and sports. The skills required often represent those necessary for survival in the harsh Arctic environment, emphasizing physical strength, agility, and endurance.

Nomadic people in the Arctic carried very little with them other than what was necessary for daily living, so most traditional games either require no special equipment or are played with small pieces that can be easily carried. Games could therefore be played anytime people got together.
The origin of some traditional games may go back to Asia - before the descendants of the Inuit migrated across the Bering Strait to North America (over 4,000 years ago). Others were undoubtedly learned after migration, perhaps through contact with southern aboriginal peoples who had migrated from Asia at an earlier time.

Contact with Europeans in recent centuries introduced new games (and restricted other activites), and still others developed like most games - through a desire to entertain oneself (particularly through those long winter nights).

Some games used ordinary working tools, such as drills and awls. The Niortut (Picture: Right) is a shaft made from caribou antler with a point made of bone. To play, a target was placed on the ground and the Niortut was placed on the head with the point facing forward. The player took aim, then tipped the head and the Niortut was allowed to fall toward the target.

MORE...
Click pictures for more information and credits.
Library: Arctic, Inuit
Arctic Animals, Eurasia
Links: Traditional Inuit Games
Arctic, Inuit, Arctic Animals
Arctic Maps & Weather Reports
Inuit Games and Sports