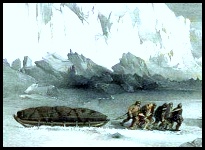 What Not to Wear

The belief that British ways of doing things were superior to all others was one reason so many early explorers froze or starved to death in the Arctic.

The first Royal Navy ships arrived in the early 1800s without anybody having recognized the need for special Arctic clothing. To protect themselves from the bitter cold, sailors were inadequately dressed in white cotton jumpers, welsh wigs (woolen caps) and carpet shoes.

They were even issued tin "hot water bottles" to stick inside their blue pea coats. The water soon froze (as did their fingers and toes).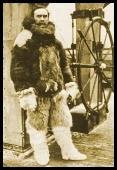 The "Eskimos" wore loose parkas of fur or sealskin, but the British stuck to their wool, flannel and broadcloth uniforms. Their boots of Navy leather simply froze - along with the feet in them. The "civilized" white men were ludicrously slow to learn the common sense ways of Inuit culture.

Why? Part of it was the arrogance of the British upper classes in the 19th century and the fear of "going native." Proper Englishmen could never stoop so low as to adopt native styles! Naval men didn't drive dogs - or build snow houses on the trail - or eat blubber!

Instead, they hauled cumbersome sledges until they dropped, struggled with tents that were either sodden or frozen, and listened to the loose teeth rattle in their scurvy racked heads.

It was not until after the Franklin Expedition tragedy that Europeans seriously adopted the Inuit ways - wearing warm fur clothing, using sleds pulled by dogs (not men), and eating raw meat to guard against scurvy.

PICTURE TOP: The sledge-hauling crew.
PICTURE RIGHT: Peary properly attired for the Pole.

MORE...
Click pictures for more information and credits.
Library: Exploration, Inuit
Franklin Expedition, Arctic
Links: Inuit, Northwest Passage
Franklin Expedition, Arctic
Exploration Map
Arctic Maps & Weather Reports