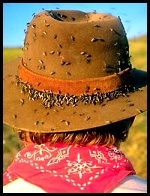 Attack of the Buzzing Hordes!

Where on Earth does one find the heaviest concentration of mosquitoes? A tropical jungle? A hot festering swamp? Wrong. Experts say it's the Arctic tundra - mosquitoes can appear in swarms so thick they can turn the sky gray.

Male mosquitoes feed on nectar and water, but the females seek the blood of warm-blooded creatures (people, birds, caribou, polar bears - they're not fussy). When they bite, they inject their saliva into the wound - causing the swelling and irritation that most people are familiar with.

And in the Arctic, these little flying predators can appear explosively - billions of them in a single day - bringing misery to all around them.

Why are there so many mosquitoes in the Arctic?
Much of the Arctic is quite flat. When the snow and ice melts in the summer months, the water has nowhere to flow to. Not only that, but the permafrost under the soil keeps the water from sinking into the earth. The result? Lots of wetlands - pools of shallow still water - prime breeding areas for mosquitoes.

Add to that the almost constant sunlight that in mid-summer can raise the temperature dramatically - turning still pools of water into instant "incubators".

The pools of still, warm water are also rich with organic material - a plentiful food supply for hungry larvae.
So what do you do with mosquitoes that some people say are so big they could carry off sled dogs and just lap up bug spray like soda pop? (Okay, that's a bit of an exaggeration.)

Cover up. Use mesh insect screens over your head and keep the cuffs of your shirt and pants tucked in or tightly fastened.

MORE...
Click pictures for more information and credits.
Library: Arctic, Land, Animals
Birds, Polar Bears, Snow, Ice
Links: Arctic, Arctic Animals
Arctic Maps & Weather Reports