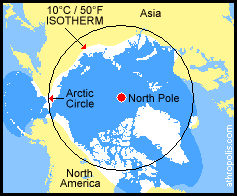 ( Click map for more information )

It's Cold Outside!

As well as being the area within the Arctic Circle, the Arctic can also be defined as being the area where the average temperature for the warmest month (July) is below 10°C / 50°F.

An "isotherm" is a line drawn on a weather map or chart linking all points of equal or constant temperature.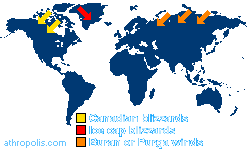 This irregular and shifting July isotherm closely corresponds to the northern limit of tree growth and that varies both above and below the Arctic Circle.

As the warmer air at lower latitudes rises, the cold polar air rushes down to take its place. In the extreme cold winter temperatures, these blizzards carry ice crystals that destroy any vegetation that isn't low enough to hide under the snow during the winter months.

Just below the surface, the ground in this cold area remains frozen all year long, and the permafrost keeps trees from growing roots long enough to hold them upright.

MORE...
Click pictures for more information and credits.
Library: Arctic, Land
Environment/Atmosphere
Links: Arctic, Environment
Maps:
1. Arctic by Arctic Circle
2. Arctic by Temperature
3. Arctic by Treeline
Arctic Maps & Weather Reports