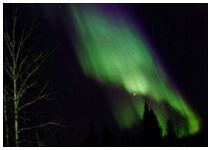 How the Lights got their colors

Have you ever wondered how the Northern Lights get their different colors... or how neon lights get their color?

The glass tubes of neon signs are filled with gas. When they are turned on, the electrical voltage energizes electrons in the gas, causing them to emit light. The color of the light you see depends on the type of gas in the tube.

Every gas creates a different color of light: helium - orange/white, neon - red/orange, argon - lavender, krypton - gray/green, and so on.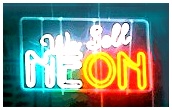 The colors of auroras are determined by the gases in the Earth's atmosphere, and incoming solar particles tend to collide with different gases at different heights.

• Very high up (above 300 km / 185 miles), oxygen is the most common gas, and collisions there can create a rare red aurora.

• The common yellow-to-green light is produced by collisions with oxygen at lower altitudes (between 100-300 km / 60-185 miles).

• Around 100 km / 60 miles, nitrogen molecules produce a red light that often seems to form the lower fringes on auroral curtains.

• Lighter gases high in the atmosphere, like hydrogen and helium, make blue and purple colors, but we cannot always see them in the night sky.

MORE...
Click pictures for more information and credits.
Library: Northern Lights
Sky/Seasons, Arctic
Links: Northern Lights, Arctic
Northern Lights Slide Show
Arctic Maps & Weather Reports