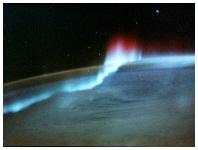 Way Up High - There's Light In the Sky

When we see the Northern Lights in the Arctic regions, they seem to shoot down from the sky and almost touch the ground. When viewed from space (as astronauts in the space shuttle see them), the auroras look more like curtains of light - hooked to the Earth's surface and hanging out into space.

In fact, the Northern Lights begin far above the Earth's surface. Jet planes fly at a height of about 5 miles / 8 km, but the auroras begin even higher than that - much higher!

When SpaceShipOne won the X-Prize for being the first privately funded spacecraft to go into space, it won by reaching an altitude considered to be the "edge of space" - 60 miles / 100 km above the Earth!

That's about where the bottom edges of the auroras start. They then extend upwards, with the tops sometimes reaching a height of 600 miles / 965 km.

So... even though the Northern Lights seem to touch the ground, that is just an illusion.

PICTURE: Space shuttles travel in a "low earth" orbit about 150 miles / 250 kilometers above the Earth's surface, providing a great view of the Northern Lights.

Northern Lights SLIDE SHOW

MORE...
Click pictures for more information and credits.
Library: Arctic, Northern Lights
Environment/Atmosphere
Links: Arctic, Northern Lights
Guide to Arctic Sunrise & Sunset
Arctic Maps & Weather Reports