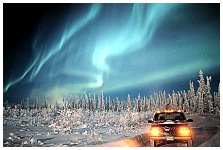 Psst! Wanna See the Lights?

As the auroras appear in ovals around the magnetic poles, the best places to see the Northern Lights are, naturally, in an area around the North Geomagnetic Pole.

These include areas like Nunavut, northern Greenland, the Scandinavian coast, Siberia, and Alaska. But if you're planning a trip, keep in mind that places above the Arctic Circle have round-the-clock sunlight during the summer months. The auroras are very difficult to see in the sunlight.
So far, nobody from the Sun has informed us Earthlings of their schedule for solar flares, and therefore there is no way to predict when the Northern Lights will be the most active. Depending on the level of recent solar activity, there may or may not be visible auroral activity all the way around the ring.

Sometimes an extremely violent solar flare can cause a much wider auroral ring, or cause a large bulge on the night side. This doesn't happen very often, but every few years people in more southern and populated areas may see an aurora.

MORE...
Click pictures for more information and credits.
Library: Northern Lights
Countries & Places, Arctic
Links: Northern Lights, Arctic
Northern Lights Slide Show!
Today's Auroral Activity
Arctic Maps & Weather Reports