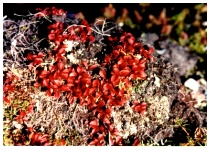 Grow Low, Grow Fast, Hold On!

Arctic vegetation is inactive for nine months as the plants snooze under snow blankets, awaiting the short summer when a top layer of the tundra thaws.

The thawing permafrost creates wetland conditions, dotting the landscape with countless lakes, bogs, streams, and meadows and the landscape bursts into life with a variety of mosses, lichens, grasses, herbs, flowering plants and dwarf shrubs.

How do the plants survive in such harsh conditions?
They grow close to the ground and close together, helping them to resist the effects of cold weather, and reduce damage caused by snow and ice particles driven by the cold winds.
The plants are small and roots are shallow to skim the thin unfrozen layer on top of the permafrost.
Water is lost through the leaf surface, so small leaves help the plants retain moisture.
Plants have the ability to grow under a layer of snow, and to carry out photosynthesis* in extremely cold temperatures.
Some plants, like lichens (right), can survive on bare rock.
They use the long hours of sunlight to develop and produce flowers quickly in the short season.
* PHOTOSYNTHESIS: The process in green plants and certain other organisms by which carbohydrates are made from carbon dioxide and water using light as an energy source, releasing oxygen as a byproduct.

MORE...
Click pictures for more information and credits.
Library: Arctic, Land
Links: Arctic
Guide to Arctic Sunrise & Sunset
Arctic Maps & Weather Reports