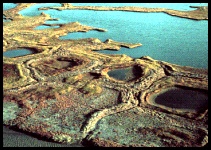 A Blocky Pattern of Ridges

Permafrost soils (soil that remains frozen for at least two years) of the Arctic tundra are covered with an "active layer" - a thin layer of soil that thaws when the summer sun warms the tundra surface.

Sometimes ice wedges form "polygons" - a honeycomb of ice walls beneath the soil surface. These can be about 70 feet / 20 meters across, although polygons may be as small as 10 feet / 3 meters across.

How does this happen?
In the winter the cold causes the frozen soil to shrink, and cracks form.
In the spring, the active layer melts and water seeps down into the cracks. It freezes and expands when it is chilled by the still-frozen soil. The frozen water forms wedges of ice in the soil.
The active layer and the tops of the ice wedges melt in the summer, adding more water.
Each winter, cracks form again in the same places, and in the spring, more water enters and enlarges the ice wedges as the freezing water expands.
This cycle of crack, melt, and freeze enlarges the wedges year by year until the soil above them is pushed up, forming a blocky pattern of ridges on the ground called polygons.
MORE...
Click pictures for more information and credits.
Library: Pingos, Thaw Lakes, Wetlands
Arctic, Land, Environment/Atmosphere
Links: Arctic, Environment
Arctic Maps & Weather Reports