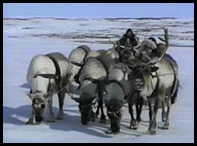 They Come Like Ghosts

Caribou, or reindeer, have been around for a long time. The earliest fossil evidence of of them comes from Germany and has been dated to about 440,000 years ago.

For thousands of years, Arctic cultures (such as the Inuit) have relied on them as a source of food and clothing. All parts of the animal were used, including the bones (tools and utensils), sinews (thread), and fat (light and heat).

An abundance of caribou meant feasts, celebrations and good times, while a shortage meant famine and hardship - and the supply of caribou was not always assured.

Their migration routes are often unpredicatable. They "come like ghosts, fill up the land, and vanish."

Perhaps that's why reindeer are herded by many Arctic peoples in Eurasia, including the Sami (Saami) in Scandinavia and the Nenets, Chukchi and others in Russia. Today, Sami reindeer herding is often carried out with the help of modern technology - snowmobiles, all-terrain vehicles, and helicopters are used to control and move the herds.

What was once a traditional subsistence activity has, in many cases, become a business enterprise.

Most attempts to keep reindeer as domesticated animals in North America failed however - people there preferred hunting to herding.

MORE...
Click pictures for more information and credits.
Library: Arctic, Animals, Inuit, Eurasia
Links: Arctic, Animals, Inuit
Arctic Maps & Weather Reports