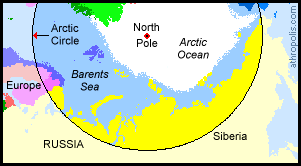 Two Continents and Nine Time Zones!

Extending nearly halfway around the world, Arctic Russia stretches over two continents and nine time zones (Arctic Map).

Russia's Arctic area shares borders with Norway and Finland in the west, and extends east through Siberia to the Bering Sea. The Chukotka peninsula almost touches Alaska (a former Russian possession sold to the U.S.A in 1867) across the Bering Strait.

Although the Arctic portion of Russia covers a vast area, the population is sparse and, for supply reasons, is concentrated along the Trans-Siberian Railroad.

The population includes both indigenous groups (Chukchi, Nenet, Evenki, Inuit, Saami and the Yup'ik) and newcomers who have come to the Arctic to work in the industries centered around natural resources. The area is rich in metals, coal, petroleum and natural gas.

The "Northern Sea Route" was established by the USSR (now Russia) in the 1930s to help supply the area, and this system of sea lanes stretches approximately 5000 km / 3100 miles across the Russian maritime Arctic. A fleet of icebreakers keeps this route operational, even in winter months.

Russia represents one of eight countries with a portion of its territory within the Arctic Circle. Do you know the others? Play the GAME!

MORE...
Click pictures for more information and credits.
Library: Arctic, Cold Places
Boats / Ships / Submarines, Eurasia
Industry / Military
Links: Arctic
Arctic Maps & Weather Reports