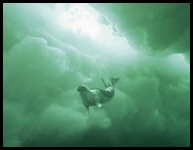 A Swimming General Store

Why have seals always been important to the Inuit way of life? Let's count the reasons...
Seal meat was a staple winter food, providing nourishment for both the people and their dogs. Even the fat, blood and eyes were eaten.

The fat was rendered into oil for the kudlik, a crescent-shaped stone lamp, providing both light and heat.

The skin was used to make clothing. Sealskin is particularly good for watertight boots, or an "annuraaq" - a cover worn to keep water from getting into a kayak.

The water-resistant nature of the skin also made it good for making boats, tents, and harpoon lines.

Seal bladders were used to make floats to attach to harpoon lines.

After being boiled and scraped, and every bit of nourishment was removed, the bones provided material for tools and utensils.
Basic Inuit hunting principles were to hunt only what was needed, and to use every part of the animal that could be used. Mission accomplished!

MORE...
Click pictures for more information and credits.
Library: Arctic, Animals
Inuit, Sled Dogs
Links: Arctic, Animals, Inuit
Arctic Maps & Weather Reports