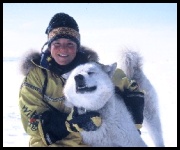 Bred for Performance

The original "huskies" were Siberian huskies and Alaskan Malamutes, used by native peoples in Alaska and northeast Siberia for herding reindeer and pulling loads. Today, the term applies to other types of sled dogs as well. Many are mixed-breed dogs, bred for performance - not looks.

The type of dogs used depends on the application: freighting dogs are large and sturdy, while racing dogs (used in the "Iditarod" or "Yukon Quest" races) are light and fast.

The best sled-pulling dogs have quick, efficient gaits and remarkable strength for their size (usually under 55 pounds / 25 kilograms). Larger dogs are at a physiological disadvantage when it comes to delivering oxygen and blood to the heart, lungs, and muscles.

Generally, huskies have a great expedition spirit, tremendous endurance, and the ability to stay warm in the most extreme conditions.

The dogs are protected by a double-coat, with a soft, downy coat next to the skin to trap body heat, protected by a longer, stiffer, guard coat that keeps the heat from escaping and water from penetrating to the skin. Their tails, that curl over their backs, can protect their noses when they are curled in a sleeping position.

Some types of huskies are: Alaskan Malamute (working dogs), Alaskan Husky (dog sled racing), Samoyed, or the Polar Husky (developed by Will Steger for his polar expeditions).

MORE...
Click pictures for more information and credits.
Library: Arctic, Sled Dogs, Inuit
Exploration, Explorers
Links: Arctic, Inuit, Cold Places
Arctic Maps & Weather Reports
Sled-pulling Dogs
News: Yellowknife to Baffin Island
Arctic Quest Expedition