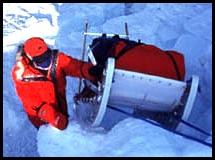 Ice Rubble Devours Flimsy Sleds

To withstand the rugged conditions encountered on the Arctic ice cap, exploration sledges have to be very strong. The sharp blocks of ice that make up pressure ridges will quickly break apart a sledge that is not long, low and very solidly built.

Some sections of "ice rubble" can only be crossed by chopping a path through. Even the toughest sledges must be repaired as they are bashed apart.

When Robert Peary made his trip to the North Pole, he used solid sledges with runners made of thick hickory planks and steel strips. Although Dr. Frederick Cook claimed to have reached the Pole first, experienced Arctic travellers concluded that his sledges, with high clearance and spindly supports, would have broken apart within days.

The two most common types of sleds in common use are the toboggan sled and the basket sled. Toboggan sleds are work sleds capable of carrying large loads, and basket sleds are fast and lightweight - good for racing.

MORE...
Click pictures for more information and credits.
Library: Exploration, Inuit, Sled Dogs, Arctic
Links: Inuit, Northwest Passage, Arctic
Cold Places, Arctic Maps & Weather Reports
News Stories: Yellowknife to Baffin Island!
16 Dogs... 4 Women... 2 Sleds...