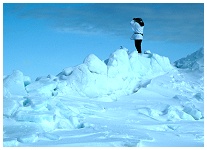 Pressure Ridges

The ice cap that covers the Arctic Ocean and seas is constantly moving - shifting, splitting and colliding. When the great sheets of ice collide, ridges of ice - called "pressure ridges" - build up at the point of collision.

These collisions are caused by:
• Pressure exerted on the ice by the force of the wind or tides.
• Movement of the ice by the underlying ocean currents.
• Thermal (caused by heat) expansion.

Pressure ridges occur mostly in newer ice because new ice is the most salty and flexible of the ice types. Such ice is relatively weak in strength when newly formed, and is a navigational hazard not because of its strength, but rather because of the thickness. Sea ice has made the Northwest Passage impractical as a shipping route.

Like icebergs, sea ice usually floats with about 6-7 times the thickness below the surface of the water, and it has been found that pressure ridges also extend downward much farther than they extend upward.

The captains of icebreakers know that what may appear to be a low ridge of ice is more likely to be a huge underwater wall that could stop their ship dead in the water.

MORE...
Click pictures for more information and credits.
Library: Arctic, Ice, Icebergs
Boats/Ships/Subs
Links: Arctic, Cold Places, Boats & Ships
Maps: Northwest Passage
Arctic Maps & Weather Reports