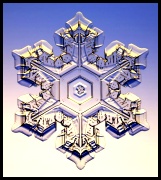 Snow Crystals - or Snow Flakes?

A snow crystal is a single crystal of ice, but a snowflake can be an individual crystal, or as many as 200 stuck together to form the big "puff-balls" that often fall when the temperature is just below freezing.

A crystal is a material in which the molecules are all lined up in a specific way called the "crystal lattice". The water molecules in ice form a hexagonal (six-sided) lattice, and all snow crystals have six sides.

The crystals form when water vapor condenses directly into ice around tiny bits of dust that have been carried up into the atmosphere. The beautiful patterns form as the crystal grows, dressing up the dirt to look real purrrdy!

Snow is not frozen rain. Sometimes raindrops freeze as they fall, but this is called "sleet". Sleet particles are just frozen water and don't have any of the patterns found in snow crystals.

MORE...
Click pictures for more information and credits.
Library: Snow, Frost, Arctic
Links: Cold Places, A Snowflake Primer
Environment
Arctic Maps & Weather Reports
There's not much snow in the High Arctic.