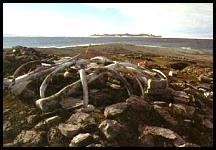 Inuit History: 300-1000 Years Ago...

About 1000 years ago the Arctic climate became warmer for a few centuries. With less sea ice, large whales moved into the Arctic waters in greater numbers. People who had learned to hunt whales from skin boats followed the whales eastward across Arctic Canada to Greenland.

The ability to hunt whales gave these people a better way of life. They built settlements and homes of stone and whalebone - the remains of which can still be seen today (picture).

Archaeologists call these people the Thule Inuit (named after an area of Greenland where evidence of them was first discovered), and they were the direct ancestors of present day Inuit.

INUIT HISTORY:
Paleo-Eskimo Period: 3000-5000 years ago.
Dorset Period: 1000-3000 years ago.
Thule ("Toolee") Period: 300-1000 years ago.
Historical Period: Present-300 years ago.

MORE...
Click pictures for more information and credits.
Library: Arctic, Inuit, Arctic Animals
Links: Arctic, Inuit
Archaeology, Ice Age
Arctic Maps & Weather Reports