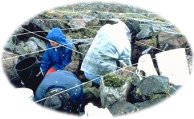 ARCTIC LIBRARY
There's just about everything here that you'd ever need to know about the Arctic, listed both ALPHABETICALLY and by CATEGORY. Check the listings for ARCHAEOLOGY, INUIT HISTORY and more.

ARCHAEOLOGY IN ARCTIC NORTH AMERICA
The northernmost part of the continent has seen some of the most fascinating human adaptations anywhere.

NEWTON'S APPLE ARCHAEOLOGY SITE
How do archeologists know where to dig? Being an archeologist is a lot like being a detective. You spend most of your time trying to find clues, collecting information, and putting pieces together to solve a mystery. PERMAFROST.

EXPLORING THE PAST: AN ARCHAEOLOGICAL JOURNEY
The history of human beings on this planet is a short one by geologic standards. We can call upon five to ten thousand years of quite satisfactory records which then trail off into the silence of the hunter's and gatherer's Stone Age world.

ODYSSEY ONLINE
An interactive journey through ancient Egypt, Greece, Rome, and the Near East; the ancient Americas; and sub-Saharan Africa of the 19th and 20th centuries

FLINTS AND STONES: REAL LIFE IN PREHISTORY
The world of the late stone age hunter gatherers.

SEE YOUR NAME IN HIEROGLYPHIC
You can write something in ancient hieroglyphics with the Cheops Transformer - try it out.

WRITE LIKE A BABYLONIAN
See your monogram in cuneiform, the way an ancient Babylonian might have written it.

PERMAFROST - TEACHER'S GUIDE AND EXPERIMENTS
A permafrost tunnel in Alaska is called a "chilly, smelly time machine" because it exposes permafrost layers dating from 11,000 to more than 30,000 years ago. These layers contain plant and animal remains whose decay creates the smell. (Okay, maybe this isn't "the study of human cultures", but it's still interesting digging in the dirt stuff.)

THE FATE OF GREENLAND VIKINGS
As the archaeologists dug through the permafrost and removed the windblown glacial sand that filled the rooms, they found...

ARCHAEOLOGY MAGAZINE
The publication of the Archaeological Institute of America (AIA) - North America's oldest and largest organization devoted to the world of archaeology with more than 8,500 members united by a shared passion for archaeology and its role in furthering human knowledge.

THE WWWORLD OF ARCHAEOLOGY
A great list of archaeological web sites. Apart from a few staff picks, it includes indexes to archaeological web sites and the home pages of archaeological organizations and journals.

WHAT IS ARCHAEOLOGY - FROM WIKIPEDIA
It's the science that studies human cultures through the recovery, documentation, analysis and interpretation of material remains and environmental data, including architecture, artifacts, features, biofacts, and landscapes.

ROCK ART PAGES
Rock surfaces employed by human artists preserve a graphic record of prehistory in Europe, Africa, Asia, Australia and the Americas.

INUIT HISTORY
From the Athropolis Arctic Library
PALAEO-ESKIMO PERIOD
3000-5000 Years Ago.
DORSET PERIOD
1000-3000 Years Ago.
THULE PERIOD
300-1000 Years Ago.
HISTORICAL PERIOD
Present-300 Years Ago. During this period, explorers, whalers, traders and missionaries began to appear.

ARCHAEOLOGY GAME (Athropolis)
Try our archaeology game and see if you can find what was left behind by early Arctic explorers.

ARCTIC HISTORY
Have you ever wondered how and when the Inuit came to live in Canada and where they came from? We do not know all of the answers, but archaeology and Inuit legends provide us with some clues.

ATHROPOLIS GLOSSARY (Athropolis)
See our pop-up box for ARCHAEOLOGIST.

NOAA ARCTIC NATIVES AND ARCHAEOLOGY
Links from the National Oceanic and Atmospheric Administration.

THE INUVIALUIT OF THE WESTERN ARCTIC
From ancient times to 1902. The Inuit living in the western Canadian Arctic call themselves "Inuvialuit" or "real human beings." Their homeland stretches from the Alaskan border east to Amundsen Gulf and the western edge of the Canadian Arctic Islands. It is a land of rolling tundra and high, rocky mountains, bisected by the labyrinth of the Mackenzie River Delta.

ARCHAEOLOGY OF THE TUNDRA AND ARCTIC ALASKA
In this zone developed much of the culture of modern Eskimo (Inupiat and Yupik in Alaska) peoples. Some decisive and significant adaptations took place here and in adjacent Siberia that allowed a more efficient exploitation of this zone.

PREHISTORY OF ALASKA
This page serves as the index page for a series of documents that provide an OVERVIEW of the prehistory of Alaska and for another set of documents that briefly describe the cultural resources (archaeology, history, ethnography) in each national park and preserve in the state.

NORTHWESTERN PALAEO-ARCTIC CULTURE
The earliest securely dated archaeological sites in eastern and western Beringia involving Yukon/Alaska and eastern Siberia, respectively, fall between 10,000 and 14,000 B.P.

EARLY PALAEO-ESKIMO CULTURE
The origins of Early Palaeo-Eskimo culture were rooted in the Neolithic cultures of northeastern Siberia. Originally the term 'Palaeo-Eskimo' was coined to distinguish a hypothesized early musk-ox hunting culture from the baleen whale hunting culture of the ancestors of the present day Inuit.