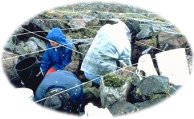 ARCTIC LIBRARY
There's just about everything here that you'd ever need to know about the Arctic, listed both ALPHABETICALLY and by CATEGORY. Check the listings for ARCHAEOLOGY, INUIT HISTORY and more.
ANCIENT TOOLS RECOVERED IN ARCTIC CIRCLE
The small number of volcanic glass tools, found among some 19,000 stone tools and other objects made of antler, mammoth ivory, and bone, have been dated to between 8,000 and 9,000 years ago.
MEMBER OF FRANKLIN EXPEDITION IDENTIFIED THROUGH DNA ANALYSIS
The DNA sample, obtained from tooth and bone recovered on King William Island in 2013, belonged to an engineer aboard HMS Erebus.
LOST FRANKLIN EXPEDITION SHIP FOUND IN CANADIAN ARCTIC
After six years of searching, one of the lost Franklin Expedition ships has been discovered in the waters of Victoria Strait near King William Island.
EVIDENCE SUGGEST PEOPLE LIVED IN ARCTIC 45,000 YEARS AGO
Radiocarbon dating of bone, hair, and muscle tissue indicate that a mammoth (with injuries made with sharp weapons) died some 45,000 years ago, or 10,000 years earlier than it had been thought modern humans lived in the Eurasian Arctic.
ODYSSEY ONLINE
An interactive journey through ancient Egypt, Greece, Rome, and the Near East; the ancient Americas; and sub-Saharan Africa of the 19th and 20th centuries
WRITE YOUR NAME IN EGYPTIAN HIEROGLYPHICS
You can write secret messages in ancient hieroglyphics with the hieroglyphics keyboard.
WRITE YOUR NAME IN CUNEIFORM
See your name and monogram in cuneiform, the world's first written language and over 5,000 years old.
THE FATE OF GREENLAND VIKINGS
As the archaeologists dug through the permafrost and removed the windblown glacial sand that filled the rooms, they found...
ARCHAEOLOGY MAGAZINE
The publication of the Archaeological Institute of America (AIA) - North America's oldest and largest organization devoted to the world of archaeology with more than 8,500 members united by a shared passion for archaeology and its role in furthering human knowledge.
THE WWWORLD OF ARCHAEOLOGY
A great list of archaeological web sites. Apart from a few staff picks, it includes indexes to archaeological web sites and the home pages of archaeological organizations and journals.
WHAT IS ARCHAEOLOGY - FROM WIKIPEDIA
It's the science that studies human cultures through the recovery, documentation, analysis and interpretation of material remains and environmental data, including architecture, artifacts, features, biofacts, and landscapes.
ROCK ART PAGES
Rock surfaces employed by human artists preserve a graphic record of prehistory in Europe, Africa, Asia, Australia and the Americas.
INUIT HISTORY
From the Athropolis Arctic Library
PALAEO-ESKIMO PERIOD
3000-5000 Years Ago.
DORSET PERIOD
1000-3000 Years Ago.
THULE PERIOD
300-1000 Years Ago.
HISTORICAL PERIOD
Present-300 Years Ago. During this period, explorers, whalers, traders and missionaries began to appear.
ARCHAEOLOGY OF THE TUNDRA AND ARCTIC ALASKA
Alaska has a long and rich history of people moving across the continent from Beringia to more recent history.
ARCHAEOLOGY GAME (Athropolis)
Try our archaeology game and see if you can find what was left behind by early Arctic explorers.