Watch Out!
It's Polar Bear Season!
Churchill, Manitoba in Canada is called the "polar bear capital of the world". It is estimated that there are about 15,000 polar bears in northern Canada, and about 300 of them pass by or through the town of Churchill in the fall (September to November).
The bears inhabit the tundra surrounding the town as they wait for the water on Hudson Bay to freeze over. When the water freezes, their search for food will begin. The bears are starving for seals after a summer of nothing to eat.
Churchill is 1,900 km (1,180 miles) from Winnipeg, and you can't reach it by road ( MAP ). Even though you have to either fly or take the train to get there, it still attracts visitors. People want to see polar bears roaming free and unchallenged rather than locked up in a zoo.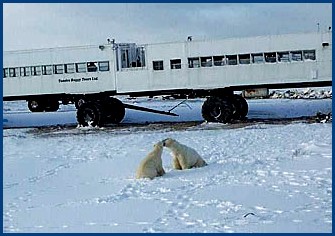 Kissing by the tundra buggies.

And how do they watch them without becoming lunch for the hungry bears? They travel in tundra buggies - huge, lumbering vehicles with tractor-sized wheels, heated interiors and viewing platforms.

Hungry bears are dangerous, and that can create some problems for people in Churchill. They used to shoot the troublesome bears, but by the 1970s the bear population was declining. Now there is a 24-hour Polar Bear Alert Program to keep track of where the bears are, and they have a bear jail where pesky bears are locked up until the bay freezes over. If the jail gets full, offending bears are trapped - then flown out of town by helicopter and released onto the ice where they won't cause trouble.


Photos: Top: Ezra Millstein, Bottom: Greg Smith

LINKS: Arctic Animals
A Canary in the Cold (Warning signs in the Arctic)
Thinning Ice in the Arctic
Steve's Churchill Site
Wildlife Adventures
World Wildlife Fund - Travel