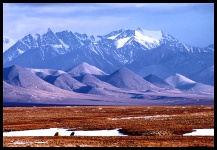 Arctic National Wildlife Refuge

The Arctic National Wildlife Refuge (ANWR) is a vast, essentially undisturbed wilderness ecosystem within the coastal plain of northern Alaska and Canada, and it represents one of largest examples of intact wilderness left on Earth.

The 19.6-million acres support the greatest variety of plant and animal life of any Park or Refuge in the circumpolar Arctic.

It was established to preserve the unique wilderness and wildlife, and it is inhabited by 45 species of land and marine mammals, ranging from the pygmy shrew to the bowhead whale. Waters are home to 36 species of fish, and 180 species of birds have been observed.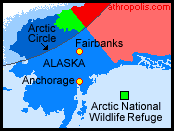 As far as is known, there are no species that should be there but are not, and no species that should not be there, but are. In other words, no species of plant or animal is missing, and no outside species has invaded the Refuge.

This very remote area remains roadless. Most of the Refuge is accessible only by aircraft and there are no lodgings or other developments - not even established campgrounds or campsites!

But things could change. In March 2005 the U.S. Senate voted to allow energy exploration in the Refuge. It is believed that there are billions of barrels of oil underground, and environmentalists think that a web of pipelines and drilling platforms will damage or destroy the land.

MORE...
Click pictures for more information and credits.
Library: Arctic, Land
Arctic Birds, Arctic Animals
Links: Arctic, Arctic Animals
Arctic Maps & Weather Reports