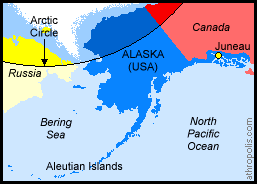 The Land That is Not an Island

The United States purchased Alaska from Russia in 1867 and it became an American state in 1959. The name comes from an Aleut word meaning "land that is not an island".

Alaska has vast areas of unspoiled natural beauty, including rugged, snowcapped mountains, spectacular glaciers, and expanses of rolling tundra.

Petroleum is the leading industrial product of Alaska. The main oil field is on the Arctic coastal plain, around Prudhoe Bay, and this area also contains one of the world's largest natural gas reserves. Petroleum is transported by the 800 mile / 1280 km long Trans-Alaska Pipeline to Valdez, where it is transferred to oceangoing tankers.

Alaska represents one of eight countries with a portion of its territory within the Arctic Circle. Do you know the others? Play the GAME!

PICTURE RIGHT: Alaskan state flag with Big Dipper and North Star.

MORE...
Click pictures for more information and credits.
Library: Industry, Countries/Places
Land, Arctic
Links: Glaciers, Arctic
History of Alaska
News Story: Alaska Glacier Rumbling!
Arctic Maps & Weather Reports