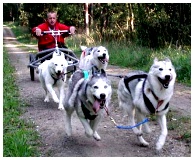 Know Your Mushing Terms

Although dog team drivers are often referred to as "mushers", and "mush" is thought by many to be the standard word to get dogs moving, the word is, in fact, not often used as it is too soft for a distinctive command.

The word likely came from the early French explorers and their word "marche" (go, run) used as a command to a team to start pulling.

The most common commands for a dog team are:
• Hike!: Get moving ("Mush" and "All Right" are sometimes also used).
• Kissing sound: Speed up, faster.
• Gee!: Turn to the right.
• Haw!: Turn to the left.
• Easy!: Slow down.
• Whoa: Stop.
• On By!: Pass another team or other distraction.

Mushers usually have no trouble getting sled dogs moving - often its harder to get them to stop - but it takes months of training to get dogs working together as a team.

Once trained, sled dogs can remain in top form for years - it's not unusual to see 10-year-old dogs in races like the Iditarod or the Yukon Quest.

To keep dogs in shape and at peak performance levels through the off-season, some mushers harness their teams to wheeled carts or four-wheeled all-terrain vehicles, and let the dogs pull the chariots along snowless dirt roads.

MORE...
Click pictures for more information and credits.
Library: Arctic, Inuit, Sled Dogs
Links: Arctic, Inuit
Arctic Maps & Weather Reports
News Stories:
"16 Dogs... 4 Women... 2 Sleds..."
"Mush! Yellowknife to Baffin Island!"