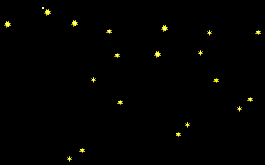 ( If animation stops - just refresh or reload the page )


The Great Bear Points the Way North

The name Arctic comes from the Greek word "arktos", meaning "bear". It refers to the constellation Ursa Major, or Great Bear, which appears in the northern sky.

The Big Dipper is part of the Great Bear constellation and it guides the way to the North Star (Polaris) - an important navigational guide (when you are facing Polaris, you are always facing north). You will notice from the diagram that the "bowl" of the dipper becomes the "saddle" on the bear.

The knowledge of how to use the North Star in navigation has been known to people in the Northern Hemisphere (the only part of the world where Polaris is visible) for well over 2,000 years, and it gave them a great advantage when it came to travel, trade, and sharing of information. This constellation is the key to finding that star.

Did you know that you can also use the moon to determine direction at night?

You can determine general east-west directions by observing the illuminated side of the moon. If the moon rises before the sun has set, the illuminated side indicates west. If the moon rises after midnight, the illuminated side indicates east.

And if you draw a line joining the crescent tips and extend it straight down, where the line hits the horizon is roughly south.

On the other hand, when you are directly at the North Pole, finding south is EASY!

MORE...
Arctic: Library and Links
Library: Sky/Seasons
Links: Constellations
Moon Phases
Finding Latitude and Longitude
Arctic Maps
Still using a compass?
Magnetic Pole makes dash for Russia