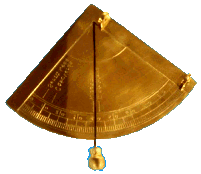 Finding Latitude

PICTURE: A mariner's brass quadrant spanning 90°. A plumb bob establishes a vertical line of reference. This one is of the type Columbus might have used to determine latitude on his voyages to the New World.

For well over 2,000 years, navigators have known how to determine both direction and latitude (their position north or south of the Equator) by using the North Star (Polaris).

When you are facing Polaris you are always facing north, and between the Equator and the North Pole, the angle of the star above the horizon is a direct measure of the degree of latitude.

In ancient times, navigators measured the angle of Polaris at their home port (see top picture). To return after a long voyage, they only needed to sail north or south to bring the star back to the angle of home port - then turn left or right and "sail down the latitude," keeping the angle the same all the way.

You can measure latitude where you are...
1. Use a string and a weight (plumb line) to put a vertical stick in the ground (A).
2. Align a second vertical stick with the first stick and the North Star (B).
3. Use your thumb to sight down stick B until the North Star is aligned with the top of stick A.
4. Mark the spot (C) and stretch the string between A and C, and then back to stick A in a level line (at right angles to your vertical sticks).
5. Measure the angle - that's the degree of latitude (not to be confused with longitude.

MORE...
Click pictures for more information and credits.
Library: Sky/Seasons, Exploration, Arctic
Links: Constellations, Maps
Arctic, Moon Phases
Arctic Maps & Weather Reports