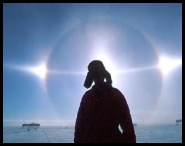 Icy Halo Around the Sun

Haloes around the sun sometimes occur in cold areas when sunlight interacts with different types of ice crystals. Light is refracted (deflected) through crystals suspended in the atmosphere that act like tiny prisms.

The haloes may look like a thin, white ring, but they are actually colored much like rainbows. They're just pale because of the low amount of ice crystals in the air (cold air doesn't hold much moisture).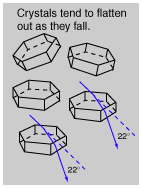 Sometimes "sun dogs" appear as the halo broadens to two bright points on each side of the sun (Arctic peoples referred to them as the sun's dogs).

These are caused by the way certain ice crystals fall - a portion of the crystals are shaped like flat hexagonal (six-sided) plates that tend to fall through the air with their flat side horizontal. This bends the light a certain way in relation to the viewer - giving the illusion of two extra suns...

Too technical? Let's just say they look cool!

MORE...
Click pictures for more information and credits.
Library: Arctic, Cold/Cold Places
Environment/Atmosphere
Links: Haloes and Sun Dogs
Arctic, Cold Places, Environment
Guide to Arctic Sunrise & Sunset
Arctic Maps & Weather Reports