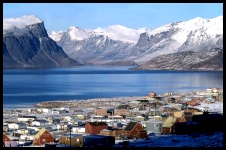 The Most Sparsely Distributed People on Earth

Altogether, about 120,000 Inuit live in Alaska (40,000), Canada (40,000), Greenland (40,000) and Siberia (1,000).

The Inuit inhabit a wider geographical range than any other aboriginal people. Spanning an area of almost 5,150 km / 3,200 miles, they are the most sparsely distributed people on earth, and form the following general groups:
Greenland Inuit (also known as Greenlanders or Kalaallitt): eastern and western coasts of southern Greenland.
Labrador Inuit: southern Labrador to Hudson Bay, with some settlements on southern Baffin Island.
Central Inuit: northern Greenland, Baffin Island and western Hudson Bay.
Banks Island Inuit: Banks Island, Victoria Island, and other central Canadian Arctic islands.
Western Arctic Inuit or Inuvialuit: western Arctic coast of Canada.
Alaskan Inuit: Alaska.
Alaskan Yuit: Alaska.
Siberian Yuit: north-east coast of Siberia.
PICTURE: Pangnirtung, Nunavut

MORE...
Click pictures for more information and credits.
Library: Inuit, Countries/Places
Eurasia, Arctic
Links: Inuit, Maps, Arctic
Arctic Maps & Weather Reports