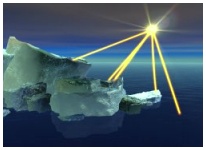 It's that black dirty soot!

When polar icecaps start to melt, less sunlight gets reflected back into space. Temperatures start to rise as more sunlight gets absorbed into the oceans and land, and this causes even further melting.

We all know that dark things absorb more light and heat than light things (white clothing in summer, dark clothing in winter). Dark-colored black carbon, or soot, absorbs sunlight, so soot-covered ice reflects less light as well. It's changing the way sunlight reflects off snow and ice.

According to NASA scientists, soot in areas with ice and snow may play an important role in climate change. Black soot may be responsible for 25% of observed global warming over the past century.

When soot covered snow and ice begins melting, the warming effect increases - the layers of soot become more concentrated on the snow surface. As glaciers and ice sheets melt, they get even dirtier!

And who are the big offenders? The soot comes mostly from diesel engines, including the diesel-powered tour buses (Picture: right) like the ones that travel the roads through tourist destinations such as Denali National Park in Alaska.

MORE...
Click pictures for more information and credits.
Library: Ice, Snow, Land
Environment/Atmosphere, Arctic
Links: Environment, Arctic
News Story: Warning Signs in the Arctic
Arctic Maps & Weather Reports