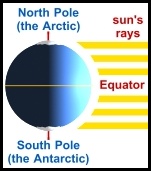 Why Are the Poles Cold?

1: Fewer daylight hours: This is only relevant in winter, but without the sun's energy to warm the surface, surface temperatures just don't warm up.

2: Less water vapor: This is the most significant greenhouse gas because of its large quantity. Cold air has a low capacity to evaporate water and hold it in the air, and less moisture in the air means more energy (heat) escapes to space.

3: Atmospheric length: The sun's rays must travel through the atmosphere to the Earth's surface. This distance is less when the sun is directly overhead (like at the Equator), than it is when the sun is near the horizon. The more atmosphere, the less solar radiation reaches the surface.
4. Lots of Ice. Vast amounts of ice and snow cool the air above it. This heavy cold air sinks through the atmosphere, creating high pressure areas with out-flowing cold surface winds and blizzards moving toward the equator. The ice is also very white, making it a good reflector...

5: Reflection: Ice, water and snow are good reflectors of solar radiation, especially when the sun is near the horizon. Instead of absorbing the sun's energy, they act like mirrors and reflect it back into space.

6: Sun Angle: This ties together all of the other factors. It makes the atmospheric length longer, reflection higher, the air colder (with less moisture) and the daylight hours fewer in winter.

MORE...
Click pictures for more information and credits.
Library: Environment, Cold / Cold Places
Ice, Snow, Arctic
Links: Environment, Cold Places, Arctic
News Story: Warning Signs in the Arctic
Arctic Maps & Weather Reports