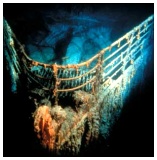 "Iceberg! Right ahead!"

April 14, 1912, 11:40 PM: The crow's nest telephone on the bridge of the RMS Titanic suddenly rang as it steamed through the iceberg filled North Atlantic Ocean. The message: "Iceberg, right ahead!"

The First Officer ordered the engines stopped and then full astern and to turn the helm hard astarboard.

For 37 seconds they waited. When it seemed as though they would strike the berg head-on, the ship finally started to turn to port (left), but it was too late. A spur of ice, hidden beneath the surface, bumped and scraped the starboard (right) side of the ship for a distance of 248 feet / 75 meters, and water gushed into the hull.

The Captain knew the ship was doomed. The lifeboats would only carry about half of the people on-board, and with the temperature of the sea water at only around 30°F / -1°C, he must have alreadly known that he and half of the people on-board were under a death sentence.

The biggest passenger liner in the world was no match for a North Atlantic iceberg, and at 2:20 AM the ship sank with a loss of 1,522 passengers and crew. The 705 survivors, afloat in lifeboats, were finally rescued by the liner, Carpathia.

MORE...
Click pictures for more information and credits.
Library: Icebergs, Ice, Boats/Ships, Arctic
Links: Icebergs, Boats/Ships, Arctic
Map: Source of North Atlantic Icebergs
Arctic Maps & Weather Reports