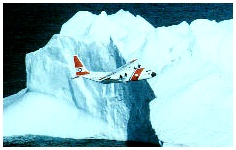 International Ice Patrol Tracks Bergs

Each spring and summer the cold Labrador Current carries Arctic icebergs south into the shipping lanes between Europe and North America. The danger they present to ships was grimly demonstrated when the R.M.S. Titanic struck one in 1912, sinking with the loss of over 1,500 passengers.

The International Ice Patrol (IIP) was established in response to that sinking, and since it was formed in 1913, there has not been a reported loss of life or property due to iceberg collisions with any vessels that have heeded the patrol's information and warnings in the patrol area.

The IIP tracks icebergs each year as long as they remain in the shipping lanes. The length of the iceberg season varies from year to year according to changes in Arctic climate, sea ice levels, and ocean currents.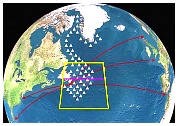 Over the years, the Coast Guard has experimented with ways of removing dangerous bergs. They've tried gunfire, mines, torpedoes, depth charges, and bombing, but just giving ships early warning so the ice can be avoided has turned out to be the most practical solution.

The patrol area covers about 500,000 sq. miles / 1,300,000 sq. km and aircraft do most of the patrolling. Information on iceberg sightings is fed into a computer along with ocean current and data. Using this information, the computer predicts the drift of the bergs so that ships can be warned.

PICTURES: Top: Hercules aircraft checks out a berg. Right: The patrol area.

MORE...
Click pictures for more information and credits.
Library: Arctic, Icebergs, Boats/Ships/Submarines
Links: Arctic, Icebergs, Boats & Ships
Maps: Iceberg Source
Arctic Maps & Weather Reports